Next BPI Town Hall Meeting!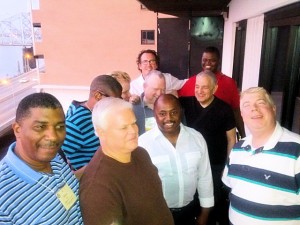 Mark this date on your calendar: Saturday, December 13, 2014 Time: 8:00 P.M. EST, 7:00 P.M. CST, 5:00 P.M. PST
Maybe, as a blind person, you find it tough to relate to sighted people … or maybe, as a sighted person, you struggle around your blind acquaintances, not sure what is best to do or say. Wherever you fall on this spectrum, whether you're blind, sighted, LGBTQQIA, or straight, Blind Pride International's next town hall meeting is for you. Join us for this interactive teleconference, let your thoughts be heard, make new friends and greet old, and most of all, have fun!
Register here!
Registering will also give you free access to the recording, even if you miss this particular Town Hall Meeting, and you'll be notified of new, upcoming meetings.
Blind LGBT Pride International, a special-interest affiliate of the American Council of the Blind ("ACB"), was founded in 1996 when a group of lesbian, gay, bisexual, transgender  ("LGBT")and straight allies met at the annual conference and convention of ACB.  The discussion centered on the needs of those who are blind and vision impaired and LGBT as that need was not being met in any organized national movement for the vision impaired and blind.
In 2000, Blind Friends of Lesbians and Gays ("BFLAG") was officially chartered in ACB. In 2009 the name was changed to Blind LGBT Pride International to better reflect the purpose and mission of the organization.
The purpose of Blind LGBT Pride International ("Blind Pride" or "BPI"), a 501c(3) organization, is to offer advocacy, education, programs, alliances,and support for persons who are either blind or vision impaired  and who are gay, lesbian, bisexual or transgender.
We are glad you chose to visit with us!




Not a Member Yet?
Sign up if you wish to receive important updates and exciting information from us!
Visit Our Social Media Pages: